The amount of data production will globally increase sixfold between 2018 and 2025. However, few are entreprises which use their customer and operational data to gain advantage over their competition. Many executives only take strategic decisions or launch digital transformations on a hunch.
Some others prefer taking decisions according to tangible information, data, and analysis. Their entreprises are said to be data-driven. But what is a data-driven entreprise actually? Why and how to become data-driven? What is the link between data-driven and agile transformation?
That's what we'll discover in this post thanks to our experts on the matter, Eric Ducasse, Co-Country Leader France at Wemanity, and Jimmy Alric, CEO at Wewyse.
1. Data-Driven Enterprise: What Are Those?
What is a data-driven entreprise?
Within a data-driven approach, strategic decisions are taken in accordance with data gathered and analysed by the enterprise, and no longer on a hunch, or based on theory, instinct, or tradition.
A data-driven entreprise is an entreprise whose strategic decisions are based on analysis and interpretation of reliable data. The goal for such an entreprise will be to gather data to understand what's happening inside and outside the organisation in order to take the right decisions.
But being a data-driven entreprise is also and mostly due to the organisation's culture. It's essential employees and executives alike are aware of the existence of data and use them the right way.
An entreprise never becomes data-driven per se: It's an ongoing direction towards which the enterprise is heading.
Why choosing a data-driven culture?
Using a data-driven approach allows entreprises to be more objective when taking decisions to have a clearer vision of what's happening within the organisation and its environment;
Hereafter are the main pros of a data-driven approach:
A better collaboration and more involvement among teams
A data-driven strategy allows to set clear objectives and key results with the use of the OKR method, and leads to more productive, fact-based discussions. Strategic decisions are better understood and applied by the entire organisation.
Better understanding and serving of clients and prospects
Enterprises can use data to understand what consumers prefer. Data-driven enterprises' chances are 23 times higher to get new clients, 6 times higher to win their loyalty, and 19 times higher to be profitable.
Quick and agile decision-making
Being agile means being data-driven. A better understanding of the enterprise, its processes, its environment, its clients, and its goals allows for easier and quicker decision-making at different stages: Strategic decisions, marketing, digital transformation, budget,… This improved decision-making is the main advantage for becoming data-driven, according to 62 per cent of executives.
Prepare the future
Data can help the enterprise to react more quickly to market evolutions. With the exploitation of data, entreprises can predict future tendencies, identify behaviours of consumers, and detect new opportunities more quickly.
2. How to Turn into a Data-Driven Enterprise?
According to studies, 98 per cent of people answer positively when asked wether they'd like their entreprise to become data-driven. However, 32 per cent of those entreprises actually manage to achieve such a transition. In case of failure, it's often due to an essential step missing: A real work on data culture.
Indeed, entreprises which are keen to become data-driven must promote a culture of collaboration and shared objectives. Every employee must feel involved in this strategy and adapt to entreprise's culture.
Here are the key steps not to neglect in order to turn data-driven:
Encouraging collaboration and communication: Creating a data culture
If teams don't work together, the enterprise will never be able to be data-driven. That's why collaboration and communication are at the center of a data-driven strategy. To achieve so:
Encourage all members of your organisation to ask questions.
Grant them access to all necessary resources for them to the answers they need. Reward curiosity and turn it into an element of your entreprise's culture.
Train every collaborator and make them aware of the importance of data and good communication practices.
Data must be at the heart of your enterprise and flow between departments.
Gathering existing data
Before hunting for new data, start with those you already have. You can use your marketing analysis tools, your CRM or even customer feedbacks. Everything that can help you answering questions you have is useful.
Don't skip data. It's important to take stock on everything you already know. You'll do kind of a stocktake of existing data, what they tell of your entreprise and its environment.
Once you identified available data sources for your organisation, you can start defining those which will be the most useful to pave way to decision process.
Making data reliable and accessible
For data to be at the heart of your strategy, it's essential everyone in the organisation gets access to reliable, unified databases that are built around a shared, coherent language. This shared language must be understood by anyone and generate a real data culture.
Here again, it's a matter of culture. Trust and sharing must be promoted within the entreprise so that every collaborator wants to take part in those overall dynamics.
Once the data are collected, they have to be treated and stored correctly. To achieve so, you'll need to supply with the right tools.
Hiring, training, and getting help
You'll need to assemble a specialised squad to bring meaning to the data you gathered. It's important to be sure there are people in this squad who are aware of the processes to gather, understand, and present data the right way. Beyond investing in tools or systems, it's essential to invest in human resources. From the start, identify the right people and give them the tools and training they need. It's essential to have collaborators with data science expertise. You may want to recruit a data analyst or even an entire team of data specialists. You can also hire data-specialised entreprises to get support and advice.
In summary, if an entreprise wants to become data-driven, it must include specific profiles to accompany change and plan concrete actions to achieve success.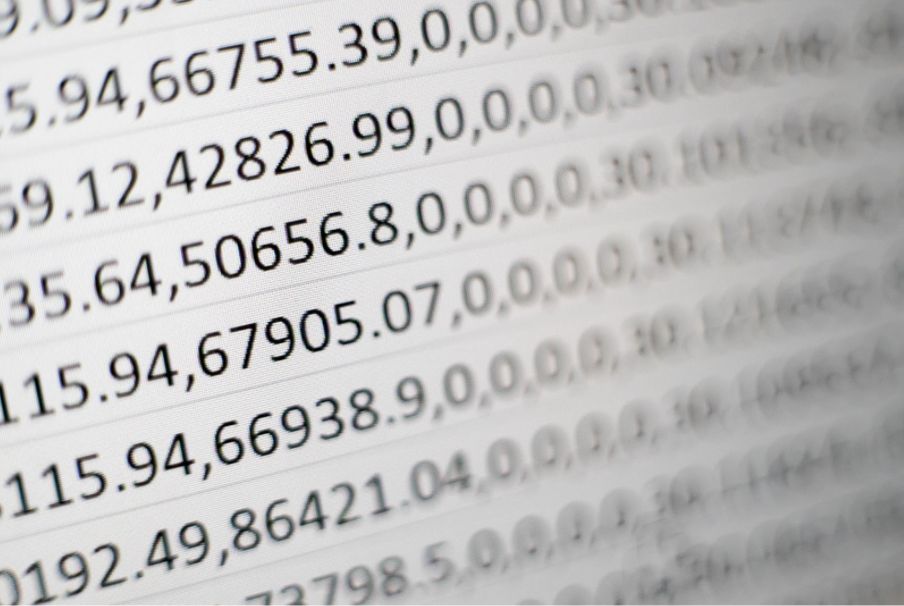 3. Digital Transformation and Data-Driven Entreprises
Not unlike other strategic decisions, many entreprises head into a digital transformation without systematically setting up clear vision and goals. Data are in such case not at the heart of the enterprise's stakes.
Nevertheless, data are primordial in a digital transformation.
Here are some elements to keep in mind to fully exploit your data and start a successful journey to your digital transformation:
Setting the right OKRs and KPIs in a digital transformation
Choosing the correct indicators to measure digital transformation can be a challenge. Digital transformation happens differently in every enterprise. Therefore, universal KPIs don't exist.
Starting a digital transformation also means being able to measure results from created changes. That's the moment when data come in. It's essential to know which indicators are relevant for a digital transformation and how to collect such information.
In order to do this, you must look back to your objectives and check whether they are achieved or not. You can use the Objectives Key Results method (OKR).
For example, if you want to know wether your efforts paid up in terms of new business generated, you can choose newly acquired leads, the evolution in market shares, or the evolution of business results as KPIs.
When you want to decide how to evaluate progress on your digital transformation and communicate about it, don't fall into common traps:
Don't set too complicated KPIs
Avoid biased indicators
Know your audience well
Not forgetting the human and organisational framework factors
The human aspect in change is undoubtedly the most important part of a digital transformation. That's why it's essential to include human factors and enterprise culture into decision-making. Feeling safe, nurturing relationships, communicating, being transparent, …Believing in data doesn't mean forgetting the human part of an entreprise!
You therefore have to think of your entreprise as a whole.
Choosing the right tools
Digital transformation comes with its new tools: Collaboration and communication tools, CRM, CMS, Cloud… There again, it's essential to remain coherent, to diffuse correctly those new tools in order to keep it safe and share the right available data to the right people.
Including new tools means including new information sources as well, and the latter must be considered regarding data.
Keeping GDPR in mind
The General Data Protection Regulation (GDPR) has an impact on the entire entreprise. It means that, obviously, data must be used ethically and their treatment must be in accordance with GDPR.
Entreprises must follow this European Regulation that acts as a warrant for security of consumers' data and allows for consumers to request for the deletion of their data from the system. To learn more about it, visit gdpr.eu .
Data and analytics are tools that entreprises must exploit. Intuition remains important, but isn't enough to take strategic decisions and lead a digital transformation. The latter must be validated or invalidated by actual data. It's essential to surround oneself and be accompanied in order to become data-driven or achieve a digital transformation.
---
In summary:
What is a data-driven entreprise?
A data-driven entreprise is an entreprise whose strategic decisions are based on analysis and interpretation of reliable data.
When does the data-driven approach becomes essential within an agile transformation?
The data-driven approach is used when results produced by change must be measured. It is a reliable strategy which allows the organisation to rely on relevant indicators before restructuring.
How to turn data-driven?
In order to become a data-driven entreprise, you must first have access to data, collect them, and treat them, and then organising them into exploitable databases. Within a data-driven entreprise, employees and executives alike are aware of data and use them on a daily basis. Such an entreprise gives therefore tools to its employees, so that they can take the best decisions on a daily basis with the help of reliable databases.