Arie van Bennekum, co-author of the Agile Manifesto, leading expert in Agile Transformations and one of our Thoughtleaders, talked to us about how Agile translates on a corporate level, and the inherent challenges in changing paradigms.
Companies in all sectors are now facing fast-changing environments. Keeping up with the pace of innovation can be a struggle for traditional business models, which leads existing businesses to transition to new business models – or simply adopt new areas of business – in order to survive. Since adaptability and responsiveness are key to thriving in the modern marketplace, companies have begun recognizing that an Agile approach applied globally is the solution.
---
Interview: Arie Van Bennekum – Co-author of the Agile Manifesto – Thought leader Wemanity
Wemanity – Arie, thank you for taking a moment to talk with us today. Tell us a little about how you got here. How did you become an expert in Agile transformations?
First, you need to understand that I am a pragmatic at heart. This can be seen in every choice I made throughout my career. I believe that people should be the architects of their own lives. If something needs to get done, then you should be the one doing it.
I started my career back when I was 19 years old and convinced that I wanted to work in the women's healthcare industry! I was one of the few males in a female-dominated profession. Already, it was clear to me that I was someone who thinks differently, an outlier.
Later, I began my mandatory military service. My drill sergeant informed me my approach was different and I wasn't going to make it in the military if I didn't do things "the right way". Instead, by the end of my service, I was platoon commander and had earned the respect of my team and commanding officers. This proved to me that conforming to the established system is not necessary to succeed, no matter what area you work in.
This continued to be true as I began working in IT in 1987 as a COBOL developer, where most of the time we were pair programming, doing short-cycled and time-boxed delivery, working end-to-end.
In 1991, I joined a consulting firm to work on a project in a well-known government organization. The project was being managed using the established, traditional approach. My big discovery there was the realization that my work had no value, wasting time and money! (I was translating a document into another document and handing that over to someone who could already read the first document). That was when I was able to first target the idea that traditional paradigms are the main obstacle to successful management. We do things because we feel they must be done "in that way".
Then, in 1994, I made a decision to take my chances. At the risk of being fired, I told my management I did not want to work this way anymore. Within weeks I had switched to Rapid Application Development projects, and the experimenting began (and has never stopped). In March 1997, I joined a small company that followed Ricardo Semmler's principles (author of Semmco Style) with self-organizing teams, empowered people, and constant innovation. I was doing interesting and valuable projects and experimenting with Agile contracts. I got connected to RAD (Rapid Application Development) user groups, the DSDM Consortium (currently Agile Business Consortium). On top of my experimenting, I started to adopt the DSDM manual more and more, which was a crucial move in my career as I began working with clients needing experts in DSDM (Dynamic System Development Method).
What is the story behind the Agile Manifesto? How did it come about? – Wemanity
I was working with the international DSDM consortium (known now as the Agile Project Framework) and we wanted to focus on international expansion. I became involved in lots of activities which included helping launch its North America chapter. Mary Henso, CEO of the Agile Business Consortium, got me connected with Dane Falkner, and I was invited to participate in a special gathering in Salt Lake City in 2001. During that key event, we sat down to share our best practices. By the end of the weekend, we had drafted the Agile Manifesto.
It took a couple of years for the Manifesto to really take off, but we were far from imagining the importance it would take on. The strong point of that weekend was that we tried to find common ground instead of arguing over whose idea was better. This is the key foundation behind Agile: it is entirely community driven. True Agilists never deny other people's best practices.
You are the only European co-signer of the Agile Manifesto. Does that mean Agile is less present in Europe? Did it have an impact on its focus? – Wemanity
Being the only European did not have any significant impact when developing the manifesto because the important things were universal: the client, the value, being open to change, and efficient working. For me, the only change I would make is to not focus on software as much. Agile is much larger than just IT. You have to make sure new solutions also land in admin, marketing, ops, etc. All disciplines together working this way is for me the only way to achieve the Agile benefits.
How did you find out about Wemanity, and what led you to want to join our community? – Wemanity
In 2009, I made the transition to work fully in Agile transformations. I wanted to focus on what I really love. A few years prior, Agile had begun gaining traction in organizations. As technology and innovation began developing at a faster pace, people were looking to find other ways to adapt to such fast-changing environments. The time was right to help guide people into applying Agile concepts outside the IT world.
I started attending conferences to discuss this larger Agile transformation approach and I met Jean-Christophe Conticello, CEO & Founder of Wemanity in 2015. Together we began discussing ideas and ways we could make Wemanity the #1 in Agile Transformations. We have been working together ever since. It is our ultimate driver.
Can you talk about Agile at Scale? What are its advantages for companies? – Wemanity
Agile at Scale is actually a bit of a misnomer. When people talk about scale, they are talking about working first with a small group then applying it to a big group. In this case, it would be better to call it Corporate and Integrated Agile, because the benefits of Agile improve the business as a whole. The larger the group that collectively applies Agile, the bigger the benefits. Those benefits are increasingly needed to create the corporate responsiveness to survive the era of continuous change.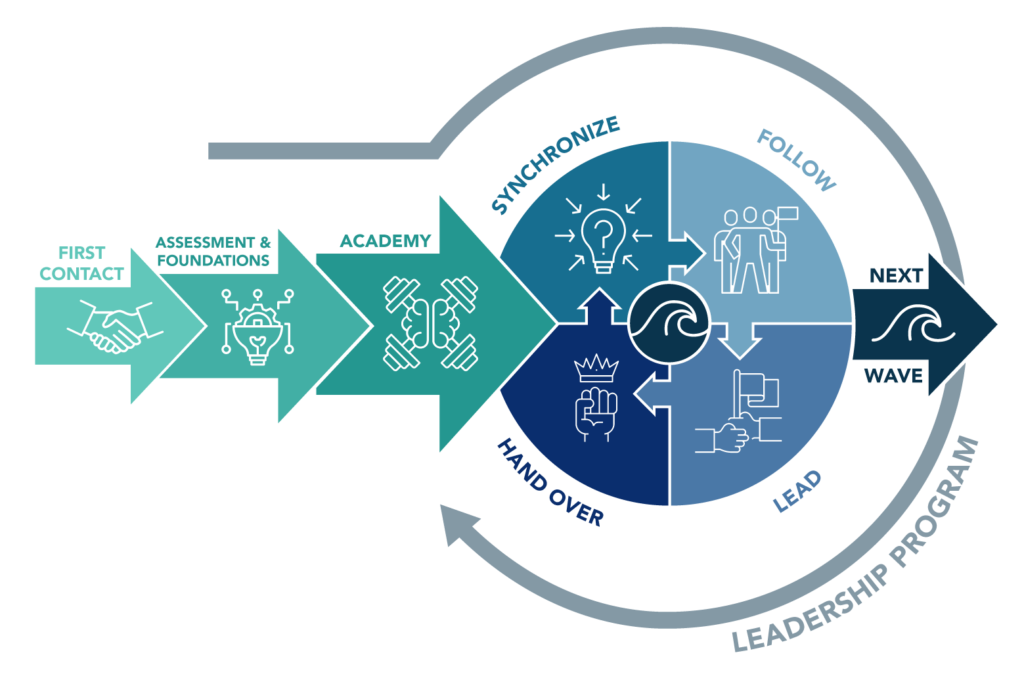 Companies who apply this concept, this methodology, are preparing themselves for the inevitable changes in their industries. Business models everywhere are changing, from Fintech and Travel to Automotive and Telecom industries. Organizations must respond to the evolving demands of their industries or they will get left behind by their competition. Not only should there be better responsiveness, but as an organization, you have to be able to change business models quickly. If not, you miss the opportunity to move into the future. Agile makes you future-proof.
This is the case in many quickly-changing industries, like travel, Fintech, and automotive. One specific example happened when the top 3 Telecom companies in the Netherlands almost went under by the disruption caused by the launch of WhatsApp. They had to respond quickly and adopt new business offers to survive.
They managed to get their people to work together to deliver better value with a shorter time to market and a better "internal quality".
Are there any limitations or hurdles in Agile transformations? – Wemanity
The only things hindering Agile transformation are people who are stuck following the traditional paradigms. Everyone within the organization, including middle management, must learn to adapt their methods and processes to what works best. Breaking out of this paradigm is like changing mentality. Instead of focusing on you and me, Agile is more into co-ownership. Shared responsibility, all disciplines working short cycled together. As a result, Agile organizations promote employee empowerment. Instead of managers telling what to do, the organization as a whole facilitates your efforts to create value. This is a big motivator for finding common sense solutions.
You talk about how Agile is not just an IT thing. How should companies go about implementing it on a wider scale? – Wemanity
You have to change the paradigms. It starts at the top: management must be the role model for the rest of the organization. The objective is to break down silos and get people working together in a team while rethinking all approaches, such as document flows and traditional bureaucratic processes. This is not an easy job. The old paradigms are embedded in bureaucracy, personal development plans, trainings, role descriptions, career paths, etc. It is a difficult thing to change paradigms because people instinctively go back into old habits and old solutions whenever something goes wrong. And when you are learning new things, it can go wrong sometimes. So, you need people who can keep you from reverting back into old ways of working and help you to develop the forward-learning process. That's why organizations need Agile transformation coaches, who remind them to stay the course and guide them back to more Agile solutions.
What are your future projects? Do you have anything in the works with Wemanity? – Wemanity
Yes, I've been working on the launch of the Weniversity, our knowledge-sharing branch! I am excited because Weniversity's calendar for 2018 is already full, featuring 8 specialized trainings delivered in 7 countries. On top of the training courses, we also have CoachLabs (open and free for everyone), Agile Game nights, and our internal Agilists sans Frontieres program, knowledge-sharing events with all our coaches from every country in our network. Right now we are active in France, Belgium, Netherlands, Luxembourg, Swiss, UK, Italy, Germany, Bulgaria, Spain, and the USA. In September 2018, we will start the Agile Coach Weniversity certification program, and we are collaborating with Jurgen Appelo, author of the Management 3.0 approach.
Aside from that, I also work as an 'Agile evangelist', sharing my thoughts and experiences as an invited guest and speaker at Agile events around the world. For example, last week I was in Bangkok and later this year in Singapore and possibly Japan. I am also beginning several transformation projects in various countries,
This year, I am also proud to say we are working on opening new offices in Bulgaria, UK, Germany, and Spain! The ambition is huge and the experimenting never stops.