From its creation in 2013, we have been transforming both ourselves and our customers: "we eat our own dog food" is a maxim that we've been living by since our very first steps into Agile and innovation. It has never been truer than nowadays. We build and test our concepts internally, and learn the required lessons before guiding our clients.
Let us share with you a story about that and the slightly different corporate social responsibility policy program that we call WeImpact.
Why Corporate Social Responsibility matters
The present environmental challenges, with the evolution of the collective consciousness of society and our wide-ranging access to constant information, has made us more aware of our impact on the planet, prompting action from ourselves, our entourage and our company in acting for change.
When you account for these winds of change and all the critical statistics pointing to a bleak future, it is every company's responsibility to take charge of its impact on the environment. We are the first generations to live under the effects of climate change (i.e. huge wildfires, melting ice caps and glacier etc.) and most certainly the last one to be able to act upon it.
Fortunately, as time goes by, since politics and citizens mindset are shifting towards positive changes it will be increasingly hard for companies to ignore the matter. The current context is leading companies to take concrete action and implement necessary measures for the well-being of our planet and the safety of humanity.
Through this philosophy, we believe that Wemanity's responsibility is to be exemplary and participate in these socio-environmental endeavors. We strive to continuously push our company culture to the next level and widen the score of our core values: by extending them outside the business world and shifting the change management to help the common good of the planet. Here, you can find some examples of our dedicated actions ;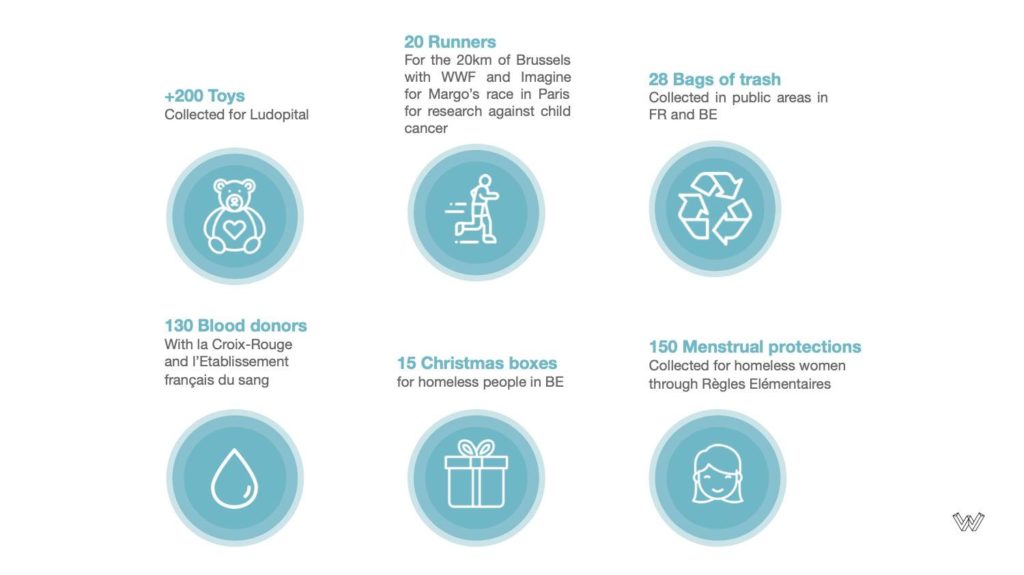 How we proceed
WeImpact supports Wemanity's Vision: Change the world of work.
For corporates, and also NGOs, Corporate Social Responsibility and Social and solidarity driven companies.
To do so, WeImpact is dedicated to guide, enhance, and reinforce social, solidarity, and environmental projects through agile, innovation and cooperation.
The program was created a bit more than a year ago, thanks to a personal internal initiative to increase our involvement in social and environmental change.
One year after its launch, WeImpact has gathered a community of WeCitizens, yearning to add impact in every aspect of company life, with tangible results and a defined goal to be reached by 2022: The 1/1/C.
We are convinced that we have made the right choice to be the change we want to see in the world but also want to include it in our DNA, our vision and our mission.
Through WeImpact, we aim to implement the structures and processes of Agile and innovation to help CSR aware companies and active NGOs in accelerating the delivery of their positive impact. We currently focus its energy on three pillars:
The guidance of more than fifteen NGOs, social and solidarity-driven economy companies, and CSR-active companies in the launch of their Agile and Digital transformations via three vectors: technological, organizational and cultural.
Doing our part as citizens, we lead our own environmental and solidarity-driven initiatives (more than twenty since last year), put together by WeCitizens and accelerated by WeImpact (i.e. donation of computers, clothes, and toys but also blood donations, charity fundraisers and races, eco-friendly workshops, inspirational talks…and more).
Ensuring our positive impact internally by triggering healthy habits and sports activities in our offices (i.e. support well-being and eco-friendly behaviors through training, workshops, team-building sessions and playful team challenges).
To scale those results, our Policy by 2022 is to implement our 1/1/C, inspired by the 1/1/1 of salesforce, whom we thank for the meeting we had together which enabled us to adapt our own model :
1% of our EBIT to be dedicated to handpicked causes that matter most to our cooperators, within the scope of the seventeen Sustainable Change Objectives as defined by the UN.
1% of our community's time to be spent on these causes, either through our international philanthropy program, or via social and environmental initiatives.
Become a contributing company by outbalancing our negative impacts and accelerating the positive ones to serve the common good.
We are at the very start, yet we plan to develop it on a large scale. Wemanity has never been so engaged as an aware and conscious community, striving to add a positive impact as we create along the way. Let us know if you'd like to join !
Please contact Manaëlle Perchet for further information at mperchet@wemanity.com