Since his speech on October 28th, 2021 on YouTube, in which he officially announced the launch of the Metaverse and his enterprise's name change for Meta, Mark Zuckerberg introduced technophile enterprises to this new concept, which seems directly taken from sci-fi. Possibilities for this new advanced technology are many, and are available for professionals as well.
1. What Is the Metaverse?
Before diving deep into the issue, it might be useful to understand the definition of Metaverse. What is it?
The term Metaverse is a combination of words Meta (the Greek word for ''beyond'') and universe. It can therefore be described as a virtual world, beyond physical limitations of our universe, which explains the Meta prefix. As explained by Mark Zuckerberg himself: ''Screens just can't convey the full range of human expression and connection. They can't deliver that deep feeling of presence, but the next version of the internet can.'' In concrete terms, the Metaverse is a virtual replica of our world that you access through virtual reality headsets, for example. It differs from augmented reality, which consists in adding virtual elements – holograms, images, etc – into the real world.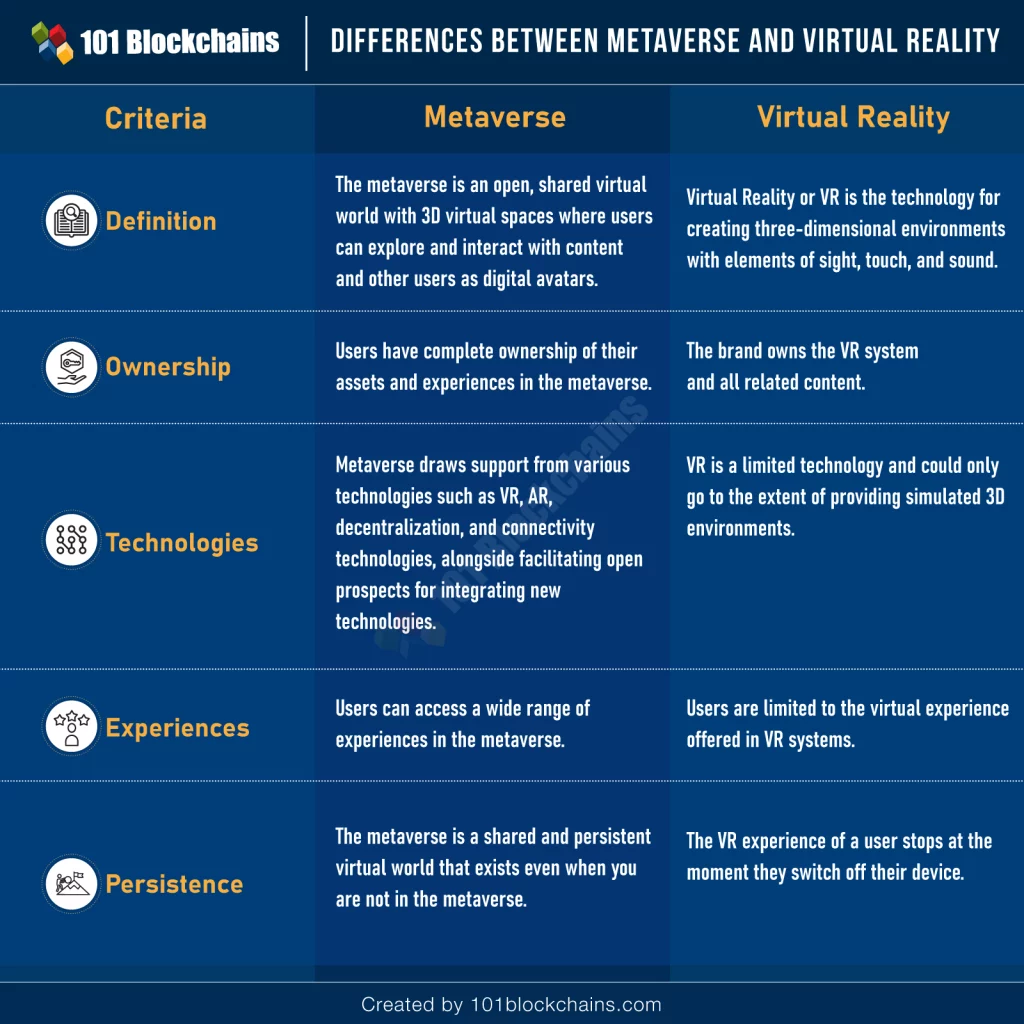 Although the term has been trending since the announcement of Facebook's founder, the idea of the Metaverse is not new. Second Life, released in 2003, was already retroactively considered as a metaverse. Within it, you could create what you could call a ''second life'', by creating your own virtual character, start social interactions or even buy an apartment.
More recently, the movie Ready Player One (2018) is a perfect cinematic example, showing a virtual world as an escape from the real world.
The main difference that appears for this Metaverse announced by Mark Zuckerberg, is the concrete applications this new technology offers: For pure leisure, easier social relations and new interactions (like enjoying a concert happening thousands of kilometres away from your place), but also – and most of all – for professional activities.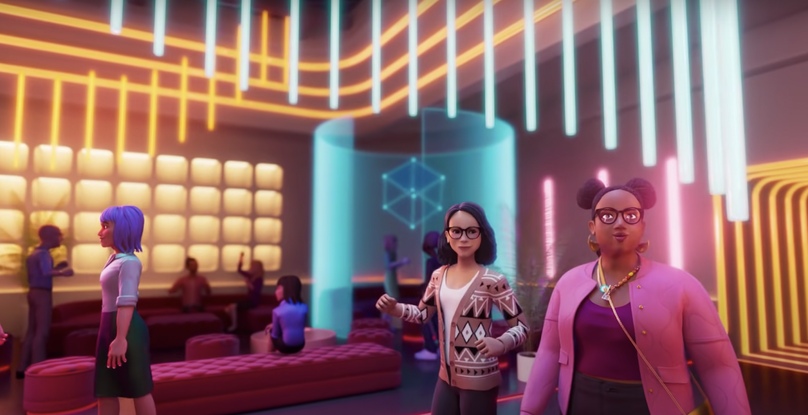 2. Working in the Metaverse
At first, the Metaverse would allow to facilitate and optimise interactions within the organisation. Indeed, the pandemic and its lockdown measures created an all- new way of working, with enterprises turning to home working and video conference, leading to more remote interactions. The Metaverse could therefore optimise tools such as Microsoft Teams, Slack, or even Zoom, by enhancing ways to exchange for collaborators. In that way, meetings via video conference could improve thanks to:
A virtual environment likening the enterprise, in which employees could move like if they were in the enterprise's real-world workspace;
Fun visuals, like virtual and interactive boards.
Moreover, a digitalised environment would allow the creation of an avatar, meaning a digital, fully customisable double for each employee. This technology is actually already in beta test at Microsoft, through their Microsoft Teams video conference app. With its new platform Mesh, the enterprise wants to generalise the use of avatars in collaborative meetings, while also rolling out the hologram tech, so that every employee could move out in a virtual environment.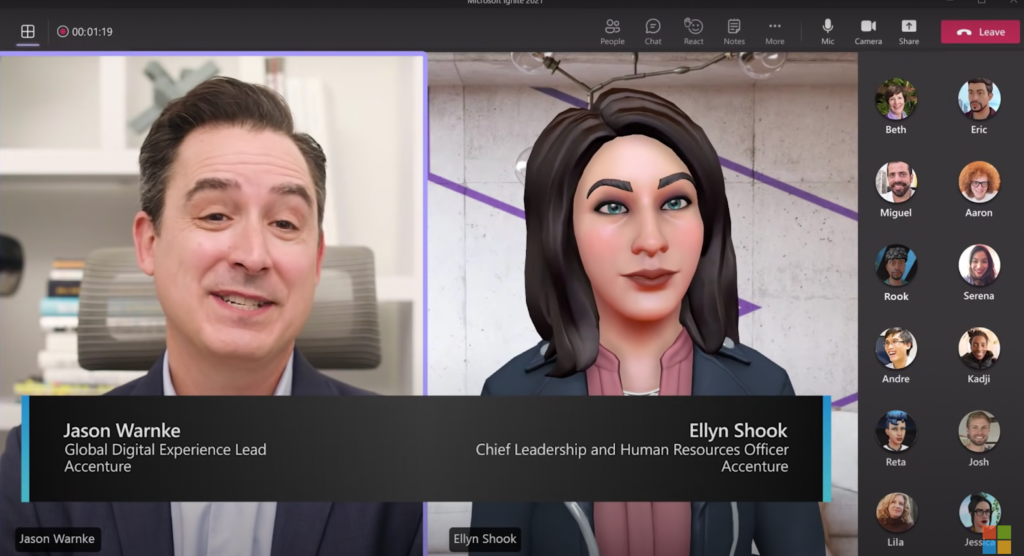 The Metaverse would therefore bring solutions for a better internal synergy between the many departments of an organisation. In that way, it becomes an advantage for council agencies in enterprise internal performance. It's clearly the goal for WeDigitalGarden, who are specialised in enterprise council in fields like organisational engineering.
The enterprise rolls out products and services involving design, data, and growth hacking – among others – and is convinced the Metaverse will be another tool that will benefit their clients' projects. However, the biggest plus of the Metaverse for enterprises should come from product innovation. Indeed, the Metaverse's strength lies beyond social interactions, potentially innovating user experience and relations with clients.
3. A Better Customer Service and a Customisable Experience
The Metaverse would indeed allow path for change and bring enhanced, never- before-seen experiences, while still different from augmented reality.
In the fashion industry, augmented reality allows the client to virtually try on a product with the only use of a smartphone. For example, Adidas provides Snapchat filters with their sneakers, allowing users to superpose it on their shoes in the real world, thanks to their phone camera.
On the gaming side, Fortnite often partners with brands to offer personalised clothes that players can add to their virtual wardrobe. In their latest example to date, Fortnite partnered with Lego to provide educational games within the metaverse.
Within the Metaverse, it's possible to go further and virtually buy this pair of sneakers in order to wear it in the virtual world. This alternative came to life with the emergence of NFTs, which can be described as a digital proof of ownership of a unique object (picture, sound, fictional character, …). This comes as the main difference from augmented reality: Products get dematerialised and directly fit into a new virtual universe.
We talked about an enhanced user experience in the fashion industry, but we could well imagine many more ways to put the Metaverse advantages into practice, such as customer service. We could imagine an architect showing his blueprints virtually to his client, who could wander within those and modify elements of a room according to their taste, or a helpdesk officer accompanying the client setting up a new device or machine.
The Metaverse will allow to optimise processes and enhance servicing tools: We can even talk of augmented call centre. For example, we can imagine an assistance in understanding a technical problem in fields such as aeronautics and nuclear energy, in other words fields which require to apprehend complex processes.
At WeDigitalGarden, experience design is at the heart of our product development and we can already include the Metaverse in our clients' future strategies, like for optimisation of processes.
For all that, it still is difficult to really include the Metaverse as of now, as it refers to very recent technology. However, it's never too late to start thinking about it: The Metaverse could be the trigger to many advancements in various fields, e.g. education, research, health, social services, …
4. Which Future for the Metaverse?
The Metaverse is a real paradox: It seems to be a close future, but the timing of its getting real is quite undefined. How to include it in our daily life? How to make it a real tool for work?
First of all, for it to work at its full potential, it will have to be accessible to everyone. Entreprises will need to invest in technological tools like virtual reality headsets and performing computers to reach that goal, but not every organisation can afford such tools as of now.
Secondly, energetic resources and logistics will need to be sufficient enough for it to work, but some entreprises suffer from a lack of those, and we don't even talk about the noticeable environmental impact. Therefore, must we invest in the Metaverse?
The question remains open, but we undoubtedly have to include the Metaverse in internal and external strategies right now, through test phases and imagined use cases, which would include the many technologies linked to virtual reality.
To discover WeDigitalGarden's methods, check out their website.